by Cathy Kits, SCSBC Director of Advancement ◊
Recently I have been wrestling with the subject of alumni engagement in our schools. For many students, graduation from high school feels like the end of a relationship. Often it is. In the past, schools were not always intentional in walking with their graduates as they set out on their new journeys. The lack of staffing resources, databases, and social media, made staying connected much more difficult than it is today. This has resulted in a communication gap of many years, making it challenging to find these alumni, much less re-engage with them.
While finding all those past graduates may not be possible, it is not too late to consider prioritizing establishing an alumni program at your school. In every school community, some alumni would welcome the opportunity to re-engage with their school in meaningful ways. This is also an opportunity for schools to continue to show God's love and faithfulness to the students who pass through their walls by providing them with an ongoing community and place of belonging in their post-secondary years and beyond.
Engaged alumni can become a critical part of your school's culture. Alumni can be a school's most enthusiastic champions! This is especially true for the students who were transformed through the living out of the mission and vision of your school. Over time these alumni may become your school's best ambassadors, volunteers, giving partners, and sponsors.
Beyond financial giving, if provided with the opportunity, recent graduates can immediately impact your school by engaging with middle and high school students and helping them identify the pathways they want to explore upon graduation. They can share their post-secondary successes and challenges with your students and offer strategies for applying to schools and navigating the first year of college or university. Those in the trades can provide advice about how they can access programs and apprenticeships to move them into a trade, and early career alumni can share their experiences about entering today's workplace. Their fresh outlook on job searches and expectations can help students prepare for interviews, internships, and job offers.
There are endless ways to involve these former students, inviting them to use their gifts, whether coaching a sport, assisting with a school play, or providing opportunities to share their area of expertise with your current students. Consider beginning alumni engagement with your current graduating class. As it is significantly easier to maintain relationships than to rebuild them later, establish a protocol for communicating with them immediately after graduation. This makes it clear that their journey with your school continues even after they graduate.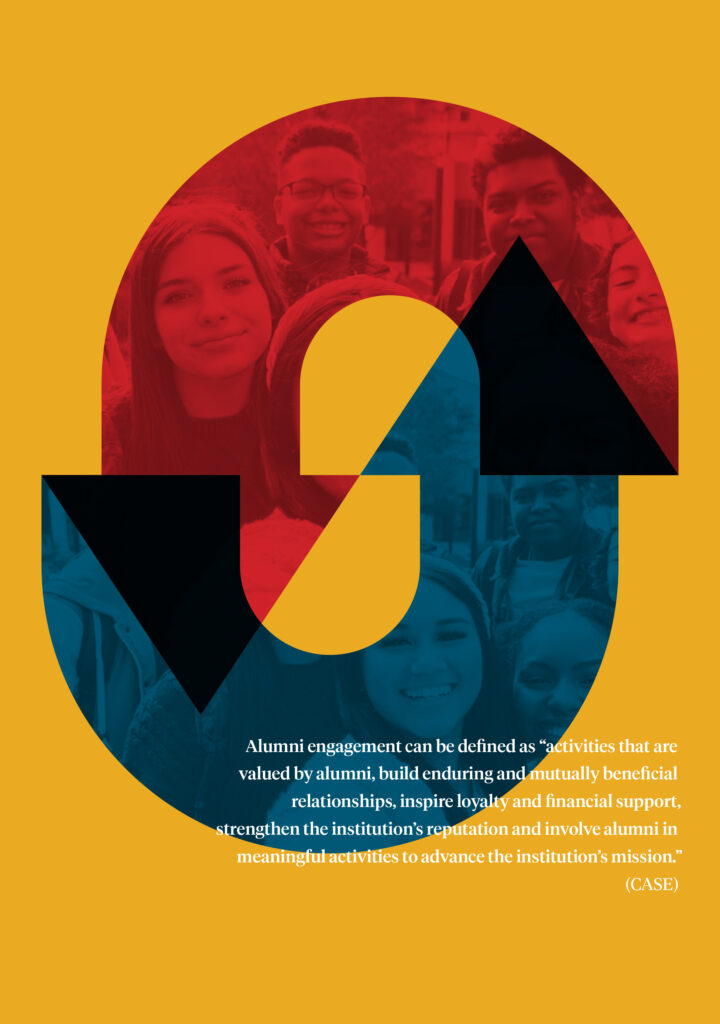 As you begin to build your program, remember that the needs and preferences of your recent graduates will differ from those who graduated years ago. Different strategies will be required to communicate with them. You might start by inviting them to engage with your school's social media, where they can see what's going on at the school, sign up for email, or RSVP to events. From here, you can facilitate introductions between alumni in online communities and at events to connect them, the school, and your current students.
We know that stories have the power to inspire and engage, and there is untapped potential in continuing to engage with your past students through story. You already have a shared story with them; your goal is to invite them into the school's ongoing story. Some schools feature alumni in their community publications. This can be an effective way to hear their stories, and to share yours in a way that will resonate with them, connecting the past to the present and people to each other, and making your school stronger for future generations of students.
Whatever vision you have for integrating your alumni into your present story, building an alumni program begins with making it a priority, and dedicating time and resources to it. Alumni engagement will not happen overnight, so developing strategies than can be executed in the short term and sustained over the long term is crucial. However, if done well, your alumni and your school community will benefit for years to come.