by Tracey Yan, SCSBC Director of Finance ◊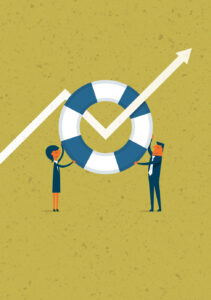 Record high inflation, reports of the "Great Resignation," predictions of rising interest rates, uncertainty about economic recovery after the pandemic, political and societal unrest both at home and abroad …the list could go on, but one thing is clear: it has become increasingly difficult to predict the future and make plans for the financial sustainability of our organizations. What can our schools do to combat this uncertainty and walk into the future with confidence? Let's take a deeper look.
Inflation
Inflation is currently at levels not seen for thirty years, reaching 5.1% in February 2022. Inflation impacts schools from many sides, increasing expenses and creating upward pressure on salaries as staff struggle with the higher cost of living. But parents will also feel pinched by the higher costs of basic items, meaning they may resist the tuition increases that the school needs to balance its books.
Schools need to strike the right balance between managing expenses and increasing tuition. A focus on staffing efficiency and temporary limits to discretionary spending demonstrate to stakeholders that the school is doing its part to steward its resources wisely. Meanwhile, parents will be more accepting of tuition increases when they know the bulk of those funds are going towards better compensation for school staff. Studies have shown that increases to tuition have little overall effect on enrolment demand (Independent School Management, Measuring Success and the National Business Officers Association, 2017), so boards should resist the fear that parents will flee the school in large numbers when tuition goes up. Schools are better off having an effective tuition assistance program than keeping tuition low across the board.
The Bank of Canada currently predicts that inflation will remain high through 2022, easing to 2.5% by the second half of 2023 and 2% in 2024 (Bank of Canada, 2022). The current high rates are mostly a result of supply chain issues which should resolve as the world moves out of the pandemic, but new strains of covid-19 and war in Ukraine have added further uncertainty about how long this will last. Schools that have set aside some reserve funds in the past few years should be able to weather this period, but schools without cash or available credit facilities may need to adjust course a bit more.
Interest Rates
Interest rates in Canada are closely connected to inflation and are managed by the Bank of Canada through its monetary policy. Generally, the Bank of Canada raises its interest rate when inflation is above its target of 2% and lowers its interest rate when inflation is low. The Bank's monetary policy is future-oriented since it takes time for policy decisions to work their way through the system and have an impact on inflation, so the Bank's interest rate is based more on where it expects inflation to be in the future rather than where it is now. As anticipated, the Bank of Canada raised its rates in March and April, and further increases in 2022 are expected. Schools with flexible rate debt are well-advised to consult with their financial institutions about how best to manage their interest rate risk in the coming year.
The Pandemic, Economic Recovery, and the Great Resignation
The Canadian economy appeared to be bouncing back as the approach to covid-19 changed from a pandemic to an endemic virus, but rising costs and supply chain issues have muted this recovery to some degree. The Bank of Canada is forecasting growth at 4.25% in 2022 and 3.25% in 2023 (Bank of Canada, 2022). While there is no doubt of some ups and downs to come, particularly due to record government spending and debt levels and political conflicts in parts of the world, signs are that slow but steady growth will continue. This gives some hope for the continued growth of both enrolment and charitable giving as income and wealth are preserved in the long run.
The impact of the "Great Resignation" arising from the pressures of the pandemic, and the ongoing shortage of educational staff in BC means that schools ignore this phenomenon at their peril. Never has it been so important to steward our human resources to the same degree as our financial resources (Shields, 2022). Fair compensation and a good benefits package should be a key component of a school's strategy, but staff engagement is equally important. Research has revealed that millennials are different from their boomer parents when it comes to work. They value organizational culture, work-life balance, performance feedback, growth opportunities, and connection to a greater purpose equal to or more than annual salary increases (Gilbert, 2011). Schools that engage their staff on this level will be able to hire and retain the human resources they need to provide the excellent education that parents expect and students deserve.
Our Only Comfort
Schools can and should do their best to plan for the future, get good financial advice, and steward their resources well (both financial and human), but ultimately we all draw on the assurance that God is in control, He cares for us, and He will provide all that we need. When times are full of uncertainty, knowing that we belong to Him is still our greatest strength and comfort.
References
Bank of Canada (2022, April 13). Bank of Canada Press Release. Bank of Canada. https://www.bankofcanada.ca/2022/04/fad-press-release-2022-04-13/
Gilbert, J. (2011). The Millennials: A new generation of employees, a new set of engagement policies. Ivey Business School Foundation. https://iveybusinessjournal.com/publication/the-millennials-a-new-generation-of-employees-a-new-set-of-engagement-policies/
Independent School Management, Measuring Success and the National Business Officers Association (2017). Effects of Tuition Increases on Enrollment Demand [White Paper]. Independent School Management. https://isminc.com/advisory/publications/research-and-reports/effects-of-tuition-increases-on-enrollment-demand
Shields, J. (2022, February 15). Key Questions to Combat the Great Resignation at Your School. National Business Officers Association. https://www.netassets.org/blogs/jeffrey-shields/2022/02/15/key-questions-to-combat-the-great-resignation-at-y